Podcast
I'M THAT
with Eitan Chitayat
Whether through work or at play, I've had the good fortune of meeting some prolific people. Some are friends. Some are colleagues. Some are clients. Some are acquaintances. On 'I'm That', we have a chat about who they are, why they do what they do, the things that they love, the things they hate, mistakes they've made and victories they've had. Maybe deep. Possibly profound. Potentially funny. But definitely honest.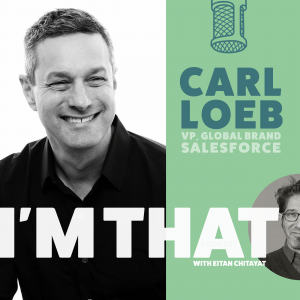 April 18, 2021
"As you nurture your career and thinking about your next moves, make sure you're going where you're wanted and that you're taking your job for all the right reasons, your happiness being first and foremost." Carl Loeb and I go way back. Now at Salesforce, we met on the Volkswagen account at Arnold Worldwide many years ago. He's...
LISTEN >>
April 4, 2021
"If we are to thrive in a digital future which includes everybody, we must ensure that we have all of our voices heard when it comes to designing technology." Jacqueline is the President of techUK and the co-chair at the Institute of Coding. She sits as a Non-Executive Director on the board of UK technology business Rightmove PLC, on the...
LISTEN >>